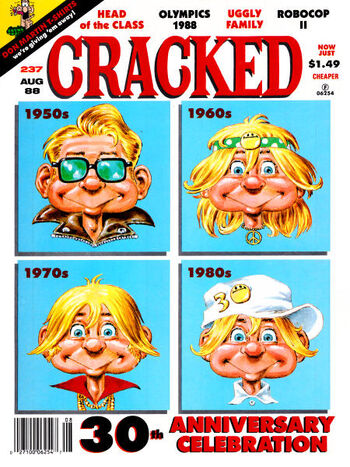 Cover date: August 1988.
The "30th Anniversary Celebration" issue. Art by John Severin, idea by Mort Todd.
Inside Front/Back Cover - "Super Bonus: Cracked 30th Anniversary Poster starring all your favorite characters".
"The Attack of Don Martin"
"False Rumors About Cracked"
"Radzilla"
"Cracked Fold-up"
"Cracked Olympic Lens"
"Press and Jerk"
"The Return of the Ron Rover"
"One Shots"
"Cracked Olympic Lens II"
"Couch Potato Catalogue"
"Canine the Barbarian"
"The Uggly Family"
"The Revenge of Don Martin"
"Form & Function: Baseball"
"History of Cracked"
"Hudd & Dini"
"Head of the Class Report Cards"
"Cracked Olympic Lens III"
"Olympic One Shots"
"Don Martin's Last Word"
"The Sabotuer (sic) Handbook"
"Shut Ups"
Issue Credits
Edit
Editor in Chief: Michael Delle-Femine.
Art Director: Clifford Mott
"Older-than-he-looks": Sylvester P. Smythe
Writers: George Gladir, Roger Brown, Randy Epley, Eel O'Brien, Moe McMahon, Joe Catalano, John Arcudi and Darren Auck.
Artists: John Severin, Don Martin, Maike Ricigliano, Don Orehek, Vic Martin, Bo Badman, Al Scaduto, Rick Altergott, Stosh Gillespie, Gary Fields and Wally Brogan.
Ad blocker interference detected!
Wikia is a free-to-use site that makes money from advertising. We have a modified experience for viewers using ad blockers

Wikia is not accessible if you've made further modifications. Remove the custom ad blocker rule(s) and the page will load as expected.