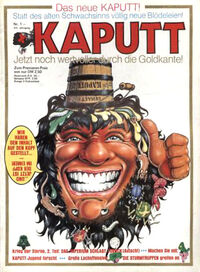 Das neue Kaputt is a German magazine that was published by Condor-Verlag in association with Major Magazines. The original Kaputt ceased publication around 1981 and was replaced by this "new" version. As with its predecessor, Das neue Kaputt utilized translated material that had previously appeared in Cracked, as well as original material. This version of Kaputt ran from 1981 - 1983 and following its closure, translated Cracked material appeared in an entirely new publication, Stupid.
With its new look, Das neue Kaputt dropped the old slogan, "Das Magazin für unterdrückte Lebensfreude" ("The magazine for suppressed Joie de vivre") and adopted new ones: "Statt des alten Schwachsinns völlig neue Blödeleien!" (" Instead of the old Spitefulness new Buffooneries!") and "Vom Blödesten das Beste" ("The Best of Stupidity").
Differences from Cracked
At a time when the interior pages of Cracked were still exclusively in black and white, some issues of Das neue Kaputt would be in almost full color and others entirely monochrome.
While initial issues were numbered sequentially, later, bi-monthly issues would use "slash" numbering, such as "Nr. 11/12".
Das neue Kaputt seems to have relied less heavily on material that originated in Cracked, but as much as half of the magazine was still translated. Other than color, the material was not substantially altered and, as with Kaputt, material could be taken from throughout the history of Cracked.
The Cracked regulars made even fewer appearances in the new magazine, the most common again being Nanny Dickering, who was here known as "Susie Sahnesteif".
One big change from the original publication is that Das neue Kaputt did not feature nudity as prominently. There was occasional nudity inside the magazine, but (unlike Kaputt) never on the cover.