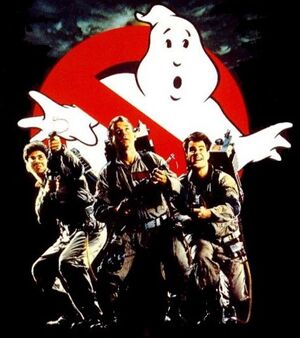 Ghostbusters is a science-fiction/comedy franchise created by Dan Aykroyd and Harold Ramis. The original 1984 film directed by Ivan Reitman stars Bill Murray, Aykroyd, and Ramis as three eccentric parapsychologists in New York City, who start a ghost catching business.
The film was followed by a sequel, Ghostbusters II in 1989, and two animated television series, The Real Ghostbusters (later renamed Slimer! And the Real Ghostbusters) and Extreme Ghostbusters. After its success in cinemas and on television, they released original stories in other fields such as a comic books, a video game and a theme park attraction.
As one of the major blockbuster franchises of the 1980s, Ghostbusters was frequently parodied in the pages of Cracked Magazine.
Appearances
Parodies
Cracked issue 249 features a number of Ghostbuster parodies including: "Ghostbugger Gear" (a spoof of Ghostbusting equipment), "Guest Dusters" (a Real Ghostbusters parody), and "Ghostbugger Shut-ups".
Cameos
Cracked Collector's Edition issue 102 features a Dr. Strangelove parody entitled "On the Beach the Day After with Dr. Strangelove or How I Learned to Live with and Love Roaches". It features a number of re-imagined pop culture characters who are attempting to stop a nuclear tragedy involoving giant cockroaches. Among the story's protagonists are versions of Egon Spengler and Peter Venkman, who discover that radiation stimulates growth in roaches. Before they are able to report their findings, they are caught in a nuclear explosion.
Cracked Blockbuster issue 2 features a short cameo of Egon Spengler, Ray Stantz and Peter Venkman as "Blobbusters". They are responsible for capturing one of Cracked's iconic characters, The Talking Blob.
Cracked issue 258 has an article entitled "The Last Issues of Popular Comic Books". In the last issue of "Gasper, The Slimey Ghost", which is a parody of Casper the Friendly Ghost, the title character is blasted away by the Ghostbusters.
Galleries
Covers
Articles
Posters