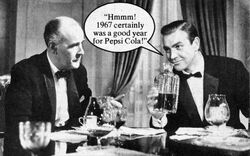 James Bond is the lead character in a multimedia franchise created by Ian Fleming. He first appeared in Fleming's novel Casino Royale and thirteen subsequent novels and short story collections by Fleming. Subsequent novels and short stories followed by a variety of authors.
In 1962, Dr. No was released to theaters starring Sean Connery as Bond. The series would go on to run to over twenty films with Connery, George Lazenby, Roger Moore, Timothy Dalton and Pierce Brosnan in the Bond role. In addition, two Bond films were made after the closure of Cracked starring Daniel Craig.
Bond appeared in Cracked numerous times, but seldom made the cover.
Appearances
Covers
Articles
Title pages shown, which are not necessarily the first page of the article.
Gallery