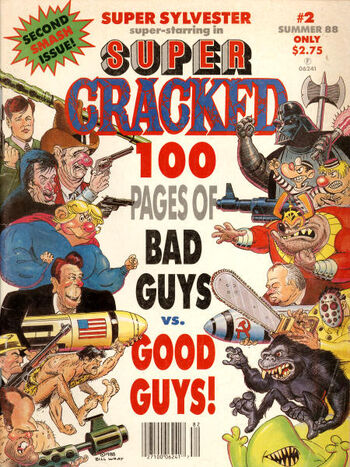 Cover Date: Summer 1988
Front cover art by Bill Wray.
Inside Cover: "Ya Pays Yer Money and Ya Takes Yer Cherce".
Super Movie Section
"Moonwrecker"
"Cobrat"
"Chinaclown"
"High Plains Shiifter"
"Return of the Jed Eye"
The Good Guys!
"Powerhouse Pepper"
"Sailing of the Vikings"
"World War I Sky Fighters"
"Super Slyvester"
"One Day In Tijuana"
"The Loser"
"Illustrated Limericks"
"Batzman & Green Horned Bee"
"The Freakniks"
"Sagebrush" (inside cover)
The Bad Guys!
"Bullet Proof Car"
"How A Rumor Gets Started"
"Hudd & Dini"
"Awards From the Syndicate"
"The Magic Lamp"
"Julius 'Little' Caesar"
"Way-Out West"
"Hudd & Dini"
"The Gunfight"
"Who'd She Expect" (back cover)
Super Cracked Lens
"Reel Gone Goodies"
"Hiss the Villians"
"Pirate Treasure Chest"
Super Shut Ups!
Issue CreditsEdit
Editor-In-Chief: Michael Delle-Famine
Reprint Editor: Mort Todd
Art Director: Barry Shapiro
"Produced by the super brains of: John Severin, Basil Wolverton, Jack Davis, Bill Elder, Al Jaffee, Don Edwing, George Gladir, Cliff Mott, Bill Ward, Marie Severin, Vic Martin, Don Orehek, Mort Todd, Joe Catalano, Sururi Gumen, Bill Wray and Mike Ricigliano".
Ad blocker interference detected!
Wikia is a free-to-use site that makes money from advertising. We have a modified experience for viewers using ad blockers

Wikia is not accessible if you've made further modifications. Remove the custom ad blocker rule(s) and the page will load as expected.