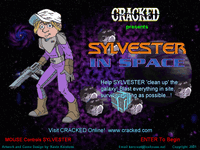 Sylvester in Space is a computer game created by Kevin Karstens in 2001 as a promotion for Cracked.com.
The game stars Sylvester P. Smythe and is a simple side-scrolling shooter, featuring Sylvester taking on asteroids and what looks like a Borg ship.
While most of the artwork is by Karstens, the "life meter" features an illustration of Sylvester that appears to be by John Severin.
Screenshots
Edit
Ad blocker interference detected!
Wikia is a free-to-use site that makes money from advertising. We have a modified experience for viewers using ad blockers

Wikia is not accessible if you've made further modifications. Remove the custom ad blocker rule(s) and the page will load as expected.